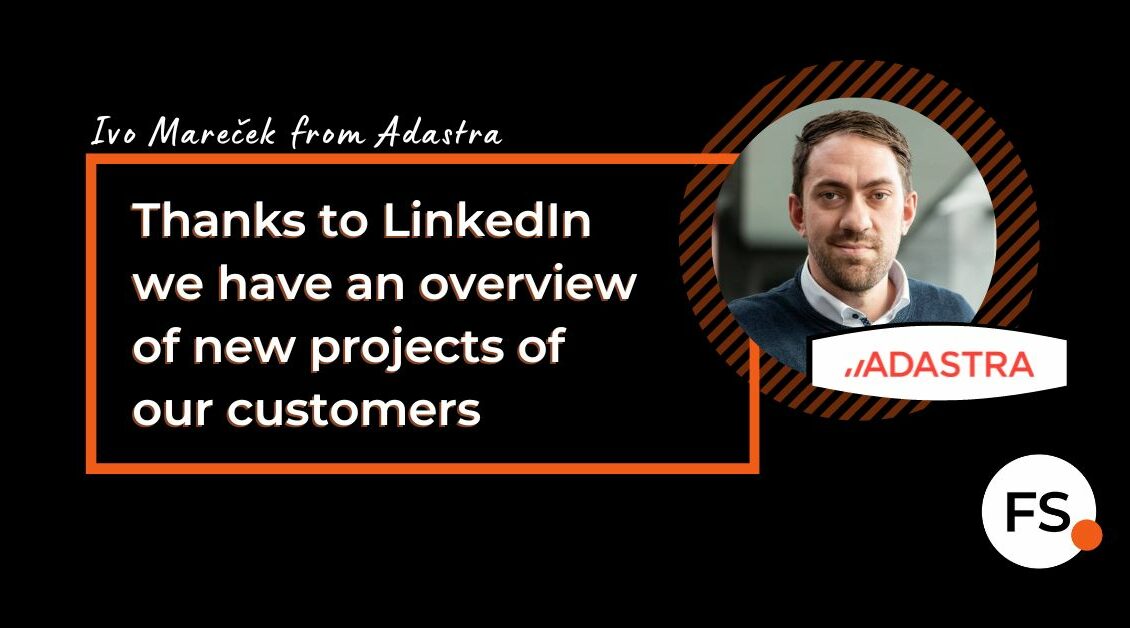 Ivo Mareček works as a Marketing Director at Adastra, which has been supplying quality digital solutions for companies in the areas of finance, telecommunications and retail for 20 years. He gained experience in digital marketing in international companies and currently leads a marketing team focusing on digital communication and brand awareness in the market.
Some of the questions were answered by Ivo's colleague Adéla Mikschiková, who works in Adastra as a Business Development Manager. Adastra has been cooperating with FUTURE SALES. since 2020.
Tell us about the cooperation with FUTURE SALES.?
We see in LinkedIn, as a tool for digital networking and sales, great potential for the future. we needed someone who already has practical experience. We came across FUTURE SALES. digitally several times, then we also met at several events, the word gave way and today we have several rounds of cooperation on various topics related to LinkedIn and its platforms.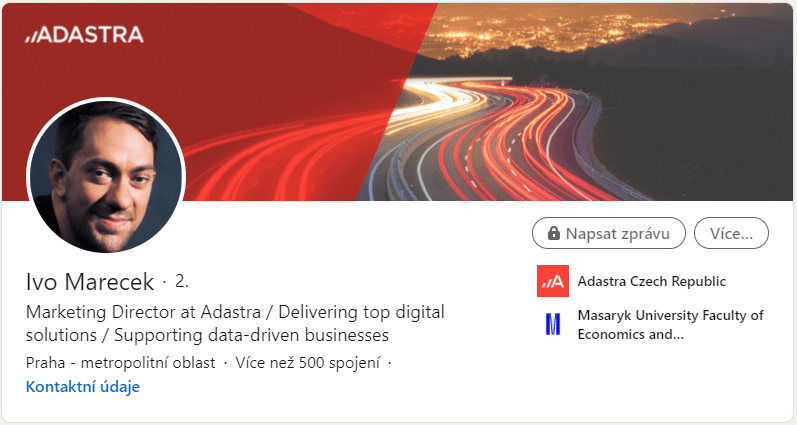 What form of cooperation did you choose?
We try to organize as many practical activities as possible for our internal clients. That's why we chose a workshop where they will try everything on their own profiles.
What did you want to achieve via LinkedIn?
Better and more efficient networking for colleagues in our sales teams.
It worked?
Yes, partly yes.
Has the process of reaching new clients changed thanks to LinkedIn?
In the case of some colleagues, yes. They started to actively use the knowledge gained during the workshops in practice and we can already see today that their network of contacts is gradually growing.
Do you have a uniform procedure for LinkedIn activities in your company?
We are gradually introducing it. We strive to make the basic workshop on LinkedIn part of the introductory training of every employee who joins the company. We then plan further follow-up courses for selected employees with regard to their position in the company.
What results can you report on using LinkedIn

?
Through LinkedIn, we have established several connections with customers, with whom we are discussing opportunities for cooperation. Communication with some customers has also improved based on LinkedIn posts, on both sides.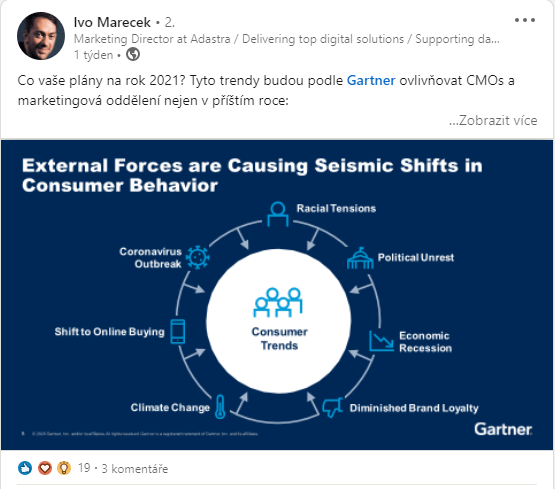 And how long did it take for the first results to show

?
After about a few weeks of using the advice from the workshop. When we tried several types of addressing and overall communication on the social networking site LinkedIn.
The following two questions were answered by Adéla Mikschiková, Business Development Manager in Adastra.
Do you have a daily routine on LinkedIn? How much time do you spend there daily?
I spend at least 30 minutes a day on LinkedIn, but sometimes all morning. It depends on whether I'm looking for new opportunities or just responding to messages and tracking activity with my customers.
How often and how do you create your own content for LinkedIn posts?
I try to create content at least once a week, presenting various solutions and planned events. These are various forms of contributions from photos, videos, PDFs, texts, to links. I am constantly learning and testing what content and format have the highest reach in the target group. I also often share contributions from our corporate channel.
Thank you for the interview.