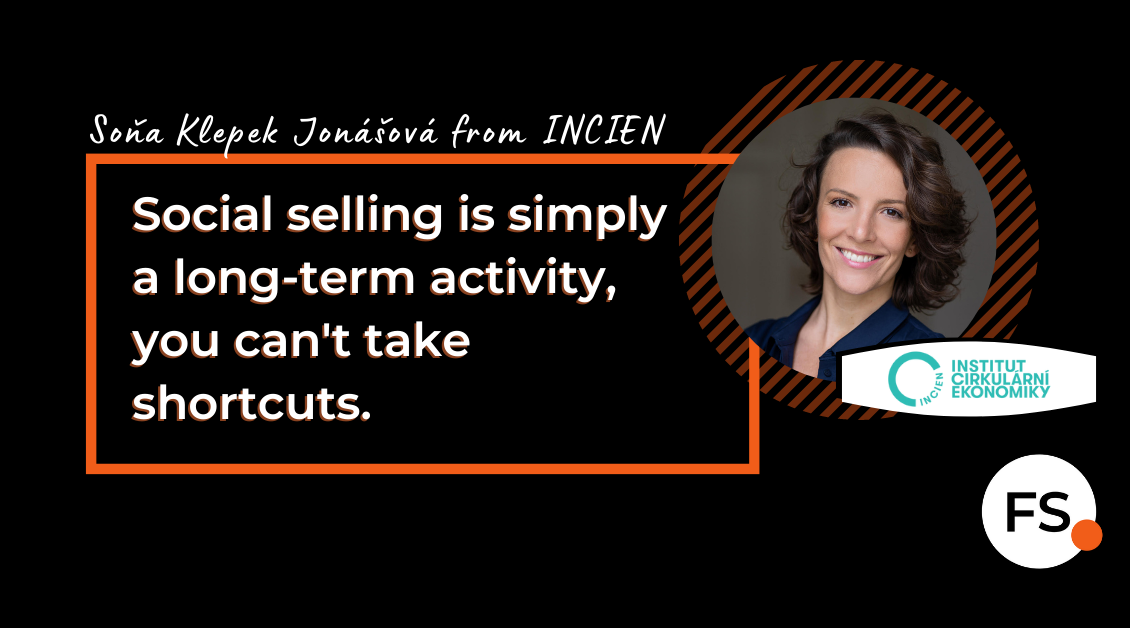 The Institute of Circular Economy is a non-governmental, non-profit organization that works with its partners on projects that help to enable the transition from a linear to a circular system. We talked to founder Soňa Klepek Jonášová about the FUTURE SALES workshops held at INCIEN in 2022.
How was your cooperation with FUTURE SALES?
We had training for the whole team, so that's about 10 people. We started by defining how LinkedIn works, what our target audience is, and what our general goals are. Jirka prepared a personal summary of all profiles for each of us. It was interesting to find that a company page is not nearly as effective (in terms of reach) compared to that of an individual's profile. We learned who is and who is not active, who has many contacts, and why it is essential to build a large network. None of us had thought much about LinkedIn before, we didn't know how to use it properly. We didn't know that we needed to expand our network of contacts continuously. We also found that we needed to be more strategic. It's also good to be realistic about who will/could really be involved in content creation. Not everyone on the team has the capacity to contribute regularly.
What did the workshops focus on?
The first workshop focused a lot on our personal profiles and what the profiles will allow, how to add new people, and how to make it a routine. When you only have 50 people in your network, you should work for a couple of months to build your network. There's no point in creating content and publishing posts when you have 50 followers, no one would see them. We've figured out how algorithms work, how we can search when we need to reach someone. That was the first impulse, and then we took the first few steps based on that. 
We also spent a lot of time on the content strategy. How the algorithm works on LinkedIn, when it's best to publish posts and what they should ideally look like, and, why not to copy the content. Breaking down that first barrier and publishing the first post was crucial for me. After some time, I could also see that my colleagues were taking the time to prepare their own posts. I think they tuned into it quite a bit when they found it worked quite well.
Do you have a routine for working with LinkedIn?
I tend to look at LinkedIn when I have some free time, like when I'm on the tram. On weekdays, I log in daily. I generally don't have a routine for anything, I'm more of an organized chaos person, although, I do try to check LinkedIn and sort out everything that's waiting for me there on a relatively regular basis – I know now that it's important for the algorithm as well. Plus, if the messages and comments pile up there, I wouldn't have time to check them all. 
What did you want to achieve on LinkedIn?
To make INCIEN as visible as possible. I was the main ambassador.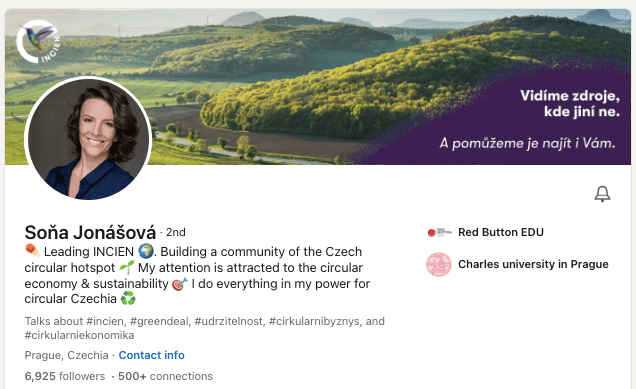 Did it work?
Our faces became more visible. When I went on maternity leave, I needed the focus to shift from me to the rest of the team. And I think it worked. Communicating on LinkedIn has increased awareness of team members and by learning to comment on posts, it gives us visibility within the company profile too.
How many people on the team are now active on LinkedIn?
There are 4 colleagues who are very active. For example, Pavel Zedníček, he really didn't like social networks before. Since he took over the leadership from me, you can see that he is very active now, he takes care of it, he takes pictures at events and his posts are perfectly prepared.
How do you create content?
My colleague, who is in charge of marketing, manages all the topics we need to communicate. She has a prepared content and brand plan for the company's social media pages, but that's not the case for personal profiles.
How do you evaluate your cooperation with FUTURE SALES?
It was a really great opportunity for us. Even though I was pregnant and it was a lot of extra work, it all worked out pretty well. We managed the workshops at the beginning of last year (February, March) and I'm surprised that it still resonates internally within the team.
Half a year goes by like water before you fully build a network and learn the habits on LinkedIn. Arm yourself with patience, it will take time. On the other hand, we know it really works. Generally, for us, it's a bit tricky on LinkedIn because we have a wide target group. We're talking to politicians, business representatives, and academic institutions. But it can be simplified for people in decision-making positions. Our target audience is there, so it's very convenient for us and it's also extremely time-saving.
Is being active on LinkedIn important to you?
A large part of our new collaborations come through LinkedIn. This has changed a lot in the last few years. Social selling is simply a long-term activity, you can't take shortcuts. 
Otherwise, what I say on LinkedIn, I would also say in my personal life. It's a public thing, which I think a lot of people on social media don't understand. I have it as an addition to my life. LinkedIn is a full-fledged resource that allows me to connect with people. 
How would you sum up collaboration in 3 points?
For us, LinkedIn has gone from a marginal social network to a very functional and used work tool.
We have come to understand that working on it only makes sense if one prepares for it. If you work there randomly, it doesn't work.
We learned how important it is to engage individual employees and that there is no need to be so demanding in building a company profile.