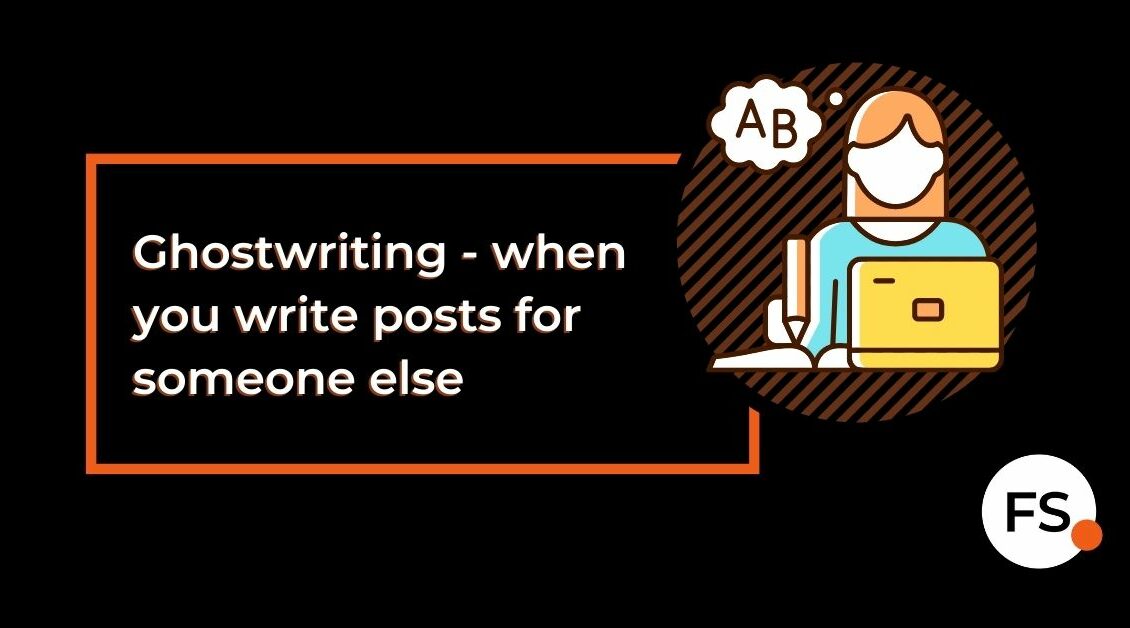 Recently, the percentage of active LinkedIn users from top management who create their own content has been rising. Occasionally we can read discussions on social media about whether top-level managers write their own texts or not. So in this article, we'll take a closer look at so-called ghostwriting. Of course, the truth in this regard is undetectable, but let's be honest – having an agency or professional copywriter who creates social media content is a common practice. After all, no one wants to read irrelevant posts on LinkedIn that are full of grammatical errors and don't make any sense. This is doubly true on LinkedIn profiles of top management.
What exactly is ghostwriting?
To put it simply, it's writing the text for someone else or under someone else's name. For copywriters, it's daily bread. Even at Future Sales, we have "copywriters" in our team who have no problem writing a post for almost any person. And they certainly don't suffer any remorse for it. It's just a job like any other.
Isn't that kind of unethical?
If you haven't been on social media on a daily basis like we have, you might think it's a scam. You don't want to read posts on a person's LinkedIn profile that you're interested in – but that was written entirely by someone else. But that's definitely not the point of ghostwriting. When a client hires an agency or freelancer to create posts, they first share their topics, their thoughts, and their personal opinion. And last but not least, the tone of voice. Based on this input, the copywriter will create the post within the rules of Czech spelling and the rules of writing successful LinkedIn posts. The client then approves the text, he or she often edits the texts to suit themselves before posting them. The copywriter gets no creative credit from this, as his or her name never appears anywhere. That's why it's so hard to get any stats and numbers in this area.
The reasons for hiring someone to write posts "for you" are simple:
Your PR department insists that you must have a personal LinkedIn profile and you must create regular content there, but you don't have time to do that because you run a big company.
Your competitors are already active on LinkedIn and you definitely don't want to be left behind because social selling via LinkedIn obviously works. But you don't have time to write twice weekly posts.
You have the desire and time to create your own content, but you'd rather put yourself in the hands of a professional agency that already has the best experience with social media. It'll be much more effective than learning as you go.
Someone recommended the services of a copywriter to take your posts to the next level. It probably has something to do with the fact that you are dyslexic and dysgraphic. However, you give him five pages of background material with data, personal experience, and know-how from which he can happily draw from.
4 reasons to start ghostwriting
Get to know the person you're writing for. If you can't do it in person (it's often very difficult to meet senior executives of large companies in person), then at least read all the materials, articles, or interviews available online.

Make sure you know the client's style of communication and how they want to communicate, their tone of voice. You can easily find this out from their already published posts or from videos.

Create a content plan of topics that the client will approve.
Be flexible and ready to make adjustments – this is the daily bread in the copywriting profession.