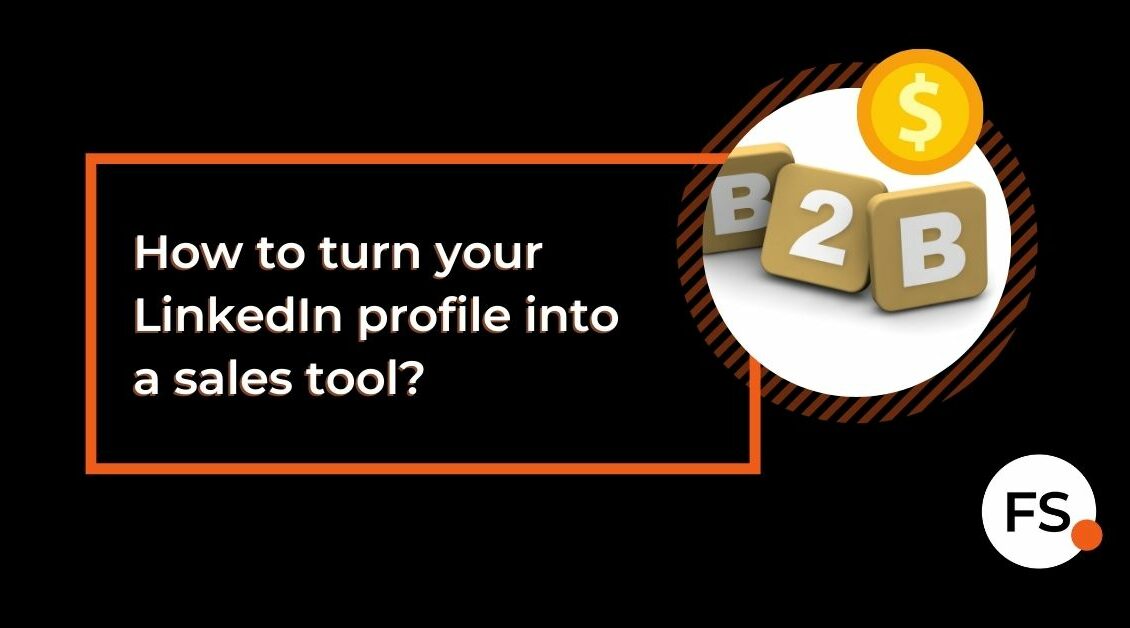 The basis of social selling is to have a well-filled personal profile on LinkedIn and to be active on the network. In this article, we will focus on how to work with a profile to help you gain new business contacts.
How to use a personal profile as a business tool?
Basically, it's about customizing it to present the product or service you offer. This creates space for establishing business contacts. The following tips have proved their worth to us personally and are intended especially for those for whom it is a matter of finding new clients and maintaining a long-term relationship with those existing daily bread.
1. Work with keywords.
Your profile can be optimized by SEO, just like your company's website. In practice, this means that if you choose the right keywords and put a little work into your profile, search engines can evaluate it as very high quality and offer your future client, who is currently looking for a supplier on the Internet, in the leading positions in search.
How to choose keywords? Make a list of words and phrases that characterize your company or product. You can also find inspiration from your current customers. Ask them what words they would use to search for your business. When you find a match between these lists, you have keywords. Now fill out your profile with them.
 
2. Introduce yourself to your target audience.
The headline of your profile is crucial. This is one of the parts where search engines get your profile information, so it should not only include the position name. Potential clients will not find you based on that. Therefore, use the keywords that define your business and supplement it with a short catchy explanation.
Visitors to your profile who choose to stay and read more about you will then focus on the About section. Take care of it as much as you did with the headline.
What should the summary look like?
Start with a summary where you explain what you are currently dealing with and what is the essence of your product.

Then explain in a few sentences to the visitor what you can help him with.

If you have business partners, attach their names. This will increase the credibility of your profile.

There should be a contact in case the client wants to contact you immediately.

Finally, list all the keywords you have selected.
3. Think of your profile as a newspaper page.
Once you manage to get a potential customer to your profile, you have about 2.5 seconds to make a good impression on him. It takes this long for most people to decide whether their companion is sympathetic or not.
Choose a representative photo. Don't use photos from trips or vacations or a carved face from groups. If you do not have such a photo, it is worth investing a little in the services of a professional photographer and taking a few professional photos. They will come in handy. Of course, the photo should be up-to-date, and we recommend laughing at it.
Use some neutral background image. It should only complete the overall appearance of the profile, not attract unnecessarily much attention, or explicitly disturb. We recommend using the logo and colors of the company you work for in the background.
Edit your profile URL. Just click on the settings and enter your full name instead of a meaningless list of letters and numbers.
Make sure your profile is accessible to everyone. You will also find these options in the settings.
4. Show that you are a real expert at what you do.
Create a content plan and contribute to your LinkedIn blog regularly. Based on the selected keywords, create several articles that will cover the given topics. You will show your expertise and draw attention to your profile. Quality articles will also be appreciated by your existing clients.
5. Create the largest audience possible.
The more people you have in your database, the more reach your content will have. People don't just have to read it, but also share it with their contacts. In addition, you can send free messages to your contacts, which can be a very effective communication channel.
Therefore, spend 10-15 minutes a day collecting new contacts. If someone new has looked at your profile, don't hesitate to write a personalized message and add it to your contacts. Did you meet someone interesting at the last networking event? Again, send them the request as soon as possible.
6. Take advantage of other social networks.
If you have done the job and created good content, then don't forget to share it on other social networks – you'll increase its reach. However, select the channel carefully. Not everything you post on LinkedIn is suitable for Facebook.
7. Don't be afraid to ask for recommendations.
Do you have a successful project behind you? Don't be afraid to tell the client or colleague about the recommendation. They can evaluate both your abilities and write a short text message.
8. You can measure your efforts on LinkedIn.
The SSI score (Social Selling Index) evaluates several aspects of your LinkedIn activities. You can find out your current SSI for free at this address.