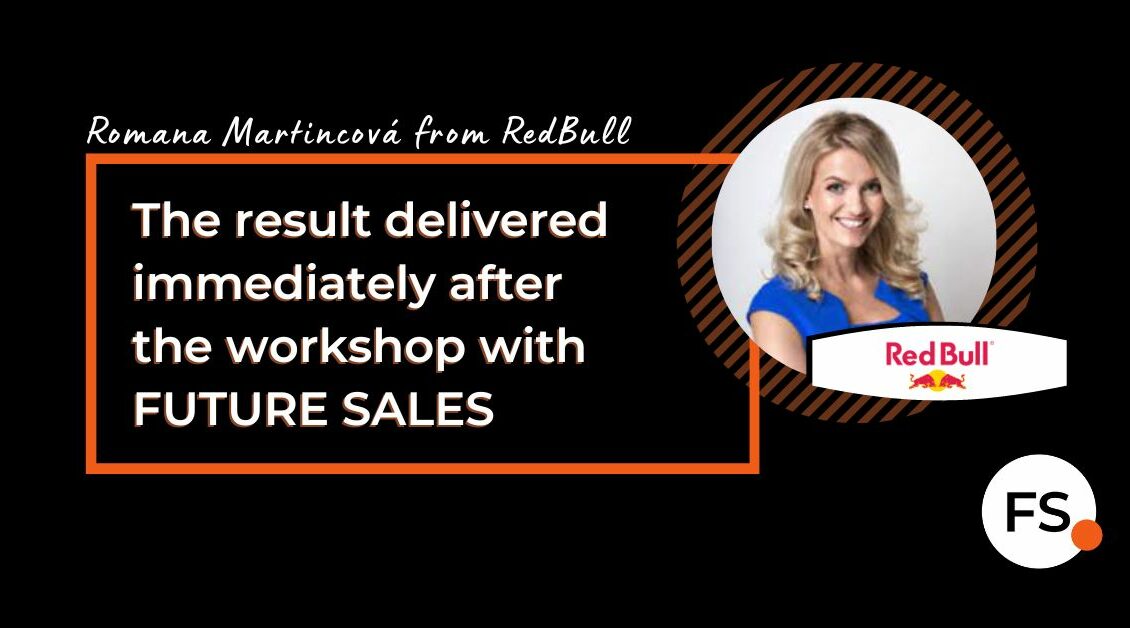 Romana Martincová, Head of HR at Red Bull, was very helpful during the interview and we thank her for that. Below you will learn how the workshop from FUTURE SALES. helped even to such an experienced team like Red Bull.
When and what led you to cooperate with FUTURE SALES.?
We got to FUTURE SALES. through a recommendation from our former colleague. The aim of the training was to improve our knowledge of LinkedIn networks.
What type of services did you choose and why?
We chose the form of an interactive workshop, which was prepared directly for all participants. The workshop was attended by the leadership team Red Bull CZ/SK. The aim was to improve the professional LinkedIn profiles of all executives for the purpose of successful corporate employer branding and business networking.
Your next goal was to make yourself visible. Have you tried it in a different way / via other social networks before?
Red Bull is a long-term user of more or less all social networks. We regularly raise our profile through Facebook, Instagram, through our website, and targeted communication in the media.
Have you reached your goal on LinkedIn?
After the workshop, all participants improved their personal professional LinkedIn profiles and thus improved their self-presentation and the entire Red Bull company. At the same time, thanks to the training, our leadership team mastered the use of basic functions such as writing articles or publishing interesting contributions. Thanks to this, it further arouses and positively influences the interest and curiosity of the professional public on this network.
Has the process of reaching your target group changed thanks to LinkedIn?
Thanks to the upgrade of our own profiles, candidates often approach us themselves with an interest in working at Red Bull. If we address the candidates, we have a better chance of attracting them and they will want to meet in person.
What exactly did your cooperation with FUTURE SALES bring you?
During the workshop, we focused on the development of personal professional profiles. The result was an increase in the professional network of each of us. Such a growing network means many exciting opportunities for business and career networking in order to print interesting candidates for Red Bull.
How long did it take for the first results to come and what did they look like?
The results came right away. The professional network of all participants has grown into hundreds of new professional connections.
Do you have a daily routine on LinkedIn? How much time do you spend there per day?
Everyone has their own routine and spends time there as needed. We use LinkedIn mainly for recruitment purposes in the HR department. In the case of open positions and active search for interesting candidates, it can be days. For everyday professional inspiration, each of us uses this network according to our program. We often share interesting articles and suggestions.
Do you have a uniform procedure for LinkedIn activities at your company?
We do not have a uniform procedure. That would be against our corporate philosophy, in which personal freedom and authentic expression are deeply rooted. Only the Red Bull company profile is branded and content managed directly from the headquarters.
How often and how do you create your own content for LinkedIn posts?
The content and regularity of the contributions are created by each of the team leaders in their own natural way. The company profile for the purposes of external product and company communication is managed directly by the headquarters through a regular editorial.